The Faustball Tunnel
German POWs in America and their Great Escape
Moore, John Hammond
1978, Random House
ISBN 0394411587
268 pages
| | |
| --- | --- |
| Type. | General History |
| Pros. | Well-researched; interesting topic |
| Cons. | None to speak of |
| Rating. | |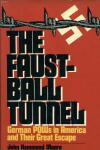 The title of this book refers to the means by which 25 German POWs, mainly U-boat officers, escaped from Papago Park prison camp in Arizona, USA just before Christmas in 1944. Led by Jürgen Wattenberg, captain of U-162, the escape was the culmination of a highly organized and intense preparation which even included a trial run. Faustball is the German for volleyball; in order to disguise the quantities of dirt generated by their tunnel-digging, the prisoners requested permission to build a sports field, ostensibly so they could indulge in this pastime.
While a good portion of the book relates the digging of the tunnel, the elaborate escape planning, and the adventures of the officers as they scattered to temporary freedom, there is also a great deal of background information on the American prison camp system, specific prison camps and interrogation centers; interrogation techniques and the Germans' attempts to foil them; and the re-education programs by which the Americans sought to "de-Nazify" the prisoners.
The circumstances leading to the capture of men from various boats, including the unique case of U-595, the only U-boat whose crew was captured by a tank, are described in vivid detail in the first part of the book. Friedrich Guggenberger (U-513), Hans Werner Kraus (U-199), and August Maus (U-185) figure prominently as three of those who escaped through the tunnel. Many other commanders and boats are mentioned as well.
Through extensive research into official interrogation reports, and interviews with various individuals involved, the author believably reconstructs conversations and provides fascinating excerpts from the prisoner interrogations. He also made use of some of the best English and German sources available at the time the book was written, as well as numerous contemporary newspaper accounts and scholarly articles. The book ends with a short chapter called "Three Decades Later" which brings the reader up to the (then) present day, describing how the author tracked down the interviewees and detailing the postwar careers of a few of those men.
Review written by Tonya Allen.
Published on 3 Oct 2000.
This title is highly recommended.