Pursuit
The Chase and Sinking of the Bismarck
Kennedy, Ludovic
2000, United States Naval Inst.
ISBN 1557504725
Hardcover, 296 pages
| | |
| --- | --- |
| Type. | General History |
| Pros. | Blend of accuracy to sources and personal view of events with unbeatable style and prose |
| Cons. | None |
| Rating. | |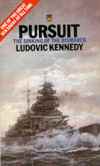 Created in the aftermath of the release of official documents, and before the Ultra story began to distort and muddy the waters, Kennedy's lyrical work is perhaps the best-known and most successful account of the Bismarck operation. It is exceptionally well rounded and very balanced, focussing on the human scale of the events, the human losses and trauma, as well as giving some of the best descriptions of life aboard large warships in the finest prose about the Second World War ever published.
Kennedy by turns gives the history of the ship and its personnel, the leaders of both navies, as well as the general tactical and strategic situation of the period, before the Eastern Front began, and while the US was still a reluctant ally of the UK. Kennedy gives a rich, smooth, almost unique narrative style to the events, both familiar and unfamiliar, drawn from Official documents, published and unpublished works, anecdotes and interviews with participants or relatives, and from his own experiences as a junior officer in one of the pursuing destroyers. He does not allow his own experiences to colour or distort the British side of the story. We are given as relevant and evocative a picture of Germany, Occupied France and Norway, America and Britain as we are of life aboard Bismarck, Hood, and the supporting ships.
With maps, footnotes and references, and some of the most unusual and effective photographs ever published, he gives the best coverage of this disastrous voyage. The most valuable element of the book is Kennedy's tone and style, so free of officialese and the stilted "exhaustion of descriptive metaphor" of wartime and postwar conventional combat narrative. Kennedy's magnificent prose soars above all other accounts of the operation, and indeed above almost all other accounts of the war itself. The most useful information is of the men both senior and junior, and their experiences, provided by themselves and surviving acquaintances, and of how it actually felt to serve and fight at sea in those "strange, lovely, vast, mysterious creatures...in the week that Hood and Bismarck sailed to glory and disaster."
The reviewer welcomes your comments on this review.
Review written by Ian Campbell.
Published on 1 Dec 2000.
This title is highly recommended.
Purchase information: (info)


Get Pursuit now at amazon.co.uk