Gallipoli
Attack from the Sea
Rudenno, Victor
2008, Yale University Press
ISBN 0300124406
352 pages, hardcover
| | |
| --- | --- |
| Type. | Non-fiction |
| Pros. | Very well written and researched |
| Cons. | Nothing to speak of |
| Rating. | |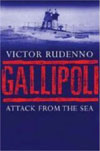 Victor Rudenno's Gallipoli: attack from the sea deals with the often overlooked naval aspects of the conflict. He, an Australian himself, explains the impact of the Gallipoli campaign on Australians due to the terrible losses their units suffered there. Gallipoli has similar feelings attached to it as Verdun has for the French. The campaign was intended by Churchill to put pressure on the Turks and defend Egypt. The book covers events from fall of 1914 to the Allied withdrawal in January 1916. Rudenno spends several chapters on the progress of the land battles to set the scene and put the submarine patrols in perspective.
The Allied battleship efforts at Gallipoli, including the famous 2 lost to U-21; HMS Triumph on 25 May 1915 and the larger-but-older HMS Majestic on 27 May 1915, have been given coverage but the Allied submarine efforts have not. U-21's success, and a failed battleship attack up the Straits of Dardanelles, was decisive in withdrawing the British battleships to safer grounds and relieving pressure on the Turks. Submarines, on both sides, played a major role in the conflict. This book helps tackle that omission.
During the campaign British submarines, and one Australian one, the AE2, fought a brave and long battle against the Turks in the Sea of Marmara. Their results were impressive and while not decisive enough to help win the campaign they forced the Turkish army to largely abandon the sea-route to replenish the front lines and stick to the safe but much longer land route. Even so, the Turkish army was frequently shelled en route by the Allied submarines close to shore – causing some losses but mostly tying up valuable resources such as field artillery away from the front lines.
Notable Allied submarines detailed in the book are the Australian AE2, the British E7, E12, E20 and the very successful boats E11 and E14. All in all 13 Allied submarines completed 25 missions in the Sea of Marmara suffering 8 losses. In return they sank two battleships, a destroyer, several gunboats and at least 25 steamers (numbers are conflicting in sources).
The book is a great read I thoroughly enjoyed it and learned a lot, both from the German / Austrian and Allied side. It's very well written and clearly a work of passion by Rudenno. His research is excellent and the book flows naturally and cleanly. Due to the complications of the missions, the narrow straits, many place names and the like it's sometimes a bit confusing to track down specific events to the several maps in the book but this is a minor omission. Overall the reader gets a clear view of the missions and the difficulties and triumphs on both sides – the German and Austrian U-boats get their fair share as well.
Disclosure: uboat.net was provided with a free review copy.
Review written by Gudmundur Helgason.
Published on 17 Aug 2008.
This title is highly recommended.
Purchase information: (info)


Get Gallipoli now at amazon.co.uk (£ 15.63)