What was Operation Deadlight?
Operation Deadlight was the code name for the scuttling of most of the unwanted German U-Boats which the Allies got their hands on after the end of World War Two (WWII).
This aspect of the U-Boat war has often been difficult to get clear view on, but it has now been explained in both context and detail in Derek Waller's recent article Operation Deadlight (7 Nov 2010).
The scuttling operations took place from Lisahally, Northern Ireland (30 boats) and Loch Ryan, Scotland (86 boats). 116 U-Boats were scuttled between November 1945 and February 1946 north west of Ireland. Whilst some of the U-Boats were sunk in the pre-selected location, many others sank en-route due to the very bad weather that hampered the Operation.
You can see where by visiting the Operation Deadlight Map page.
6 Type XXI boats at Lisahally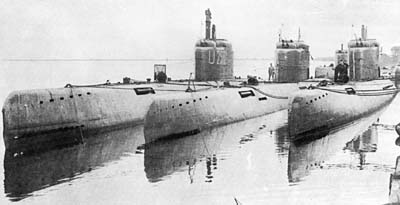 On 12 Feb 1946 at 1004hrs. the Type XXI boat U-3514 received the distinction of being the last U-Boat sunk during Operation Deadlight.
Out of the 156 German U-boats surrendered at the end of the war, were sunk in deep water near Ireland in 1945-1946 during Operation Deadlight. The 154 or so were used for various tasks and then sunk thereafter (like U-1105 sunk on explosives trial in the Potomac in 1948).
Related pages
U-boats that surrendered at the end of the War
U-boats after WWII