The French port at Brest was occupied on 18 June, 1940 by the German 5. Panzerdivision (5th Panzer Division). English troops destroyed just before that before most of the harbour facilities. The first German U-boat to use the Brest harbour was U-65 which reached Brest on 22 August, 1940 and stayed here for 5 days for some repairs. The harbour facilities at Brest were restored to full working order on September 15, 1940 and right away preperations for full U-boat deployment began.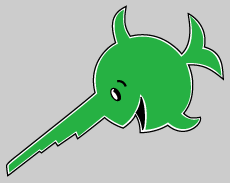 9th Flotilla - Emblem
The 1st Flotilla moved from Kiel to Brest in June 1941 and the first boat reached the new base was U-204 on the 27th June 1941. Also the 9th Flotilla was established there in October 1941.
The building of the U-boat bunker started in January 1941 and in September 1941 the first boat, U-372 used the first ready pen. The U-boat bunker at Brest was 333 metres wide, 192 metres long and roughly 17 metres high. The area covered was a record 52,000 square metres. The bunker was actually two structures, the first consisting of 13 pens, A to E and 1 to 8, the second of pens 9 and 10. The thickness of the roof was 3.6m in the first structure and 4.3 above pens 9 and 10. A second layer of concrete was poured over most of the roof making the best protection 6.2 metres.

One of the 5 hits by RAF in the bunker
The RAF (and from 1943 also the USAAF) attacked the base and the bunker from January 1941 over 80 times and lost more than 50 aircraft during the attacks.
But the first successes against the bunker finally came during August 1944, when the RAF (617th Squadron) attacked the bunker at Brest with Lancasters carrying 12,000 pound Tallboy bombs (6,4 meter length).
The attacks came on August 5, 12 and 13 and all in all 26 aircraft dropped one such bomb each at the bunker, scoring 9 direct hits and a few near-misses. Of those only 5 actually penetrated the massive roof and caused surprisingly little damage inside the bunker and none to the U-boats there.

The last U-boat to leave Brest was U-256 which had been repaired hastily and was commanded by the Flotilla Commander, Korvkpt. Lehmann-Willenbrock which took the boat out from Brest on 4 Sept and managed to bring the boat the Bergen, Norway on 17 October. Both Flotillas were disbanded in September and thus all U-boat activity ceased at the base.
Brest was captured by the allied forced on September 21, 1944 after a fierce month-long battle which caused US forces over 10,000 casualities and almost wiped out the entire town.
Brest is still a submarine base, now serving the French Navy of course, and the bunker is still in use today.