James Gibbons, RNR
| | | | |
| --- | --- | --- | --- |
| Born | 1906 | | |
| Died | Apr 1988 | (82) | |
Ranks

| | | |
| --- | --- | --- |
| 2 Sep 1940 | | T/Lt. |
| ??? | | T/A/Lt.Cdr. |




Decorations
Warship Commands listed for James Gibbons, RNR
| | | | | |
| --- | --- | --- | --- | --- |
| Ship | Rank | Type | From | To |
| HMS Bootle (J 143) | T/A/Lt.Cdr. | Minesweeper | 20 Jan 1944 | late 1945 |
Career information
At the outbreak of the Second World War he was given command of the USS California, one of the ships which neutral America contributed to help the British war effort. He was responsible for getting her safely back to the UK, running the gauntlet of the U-boat blockade. Rising to the rank of Lieutenant Commander, he captained the minesweeper HMS Bootle, sister ship to the HMS Whitehaven, which swept the Normandy beaches in darkness on the eve of D day. When the Allied invasion of Europe later ran into difficulties in the Low Countries, he was clearing mines in the front line channels of the Scheldt estuary.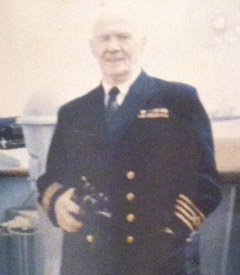 Re-joining the Merchant Marine, Captain Gibbons eventually became Senior Captain with the Hudson Steamship Co, visiting every part of the world on the long deep sea voyages which he loved.
Events related to this officer
No events found for this officer. This may be due to unknown dates of command (we pull ship events to their respective commander pages).

You can help improve officers James Gibbons's page
Click here to Submit events/comments/updates for this officer.
Please use this if you spot mistakes or want to improve his page.