German agents land in Nov 1944
U-1230, under the command of the 27-year old Kptlt. Hans Hilbig, departed Kiel, Germany on Sept, 26, 1944 en route to Norway. After a brief stop she left Horten, Norway on October 8. Her primary mission was to land 2 Abwehr agents, William C. Colepaugh and Erich Gimpel on a remote location on the coast of Maine, USA. Then she was to return to combat patrol off Halifax, Nova Scotia.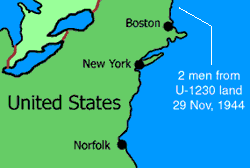 51 days later the boat made a landfall on Cape Cod on Nov 27 and then proceeded further to Frenchman's Bay in the Gulf of Maine. Late in the evening on Nov 29 the agents were taken to shore at Hancock Point by 2 members of U-1230's crew in a rubber dinghy.
The men went crossed through snow to reach a nearby road. On the road they were noticed by a high school student who told his father, the local deputy sheriff, who alerted the FBI. The FBI had already been alerted through Enigma decrypts that U-1230 was on a "special mission" and launched a man-hunt in the area. The two agents eluded the hunt and reached New York City.
The men, with $60,000 in cash and small diamonds, made their home in the city but Colepaugh, born and raised in New England, started to have second thoughts. He revealed his mission to a childhood friend and then on 26 Dec, almost a month after the landing, turned himself in to the FBI. He assisted the Bureau to track down and arrest Gimpel, which was captured on 30 Dec in New York City.
They were both tried for espionage and sentenced to death but after the war President Truman commuted the sentences.
U-1230 then went on its patrol and sank the 5,500 ton Canadian ship Cornwallis. Then she eluded a hunter-killer unit headed by the escort carrier USS Bogue and returned to Kristiansand, Norway on 13 Feb, 1945. This was the boat's only war patrol, a week later she headed back to Flensburg Germany reaching the port on 23 Feb.