U-boat Models
U-boat models are a passion for great many people and they love researching, designing and building them. On these pages I'll try to build up a comprehensive set of pages dedicated to the U-boat modeller and other interested parties.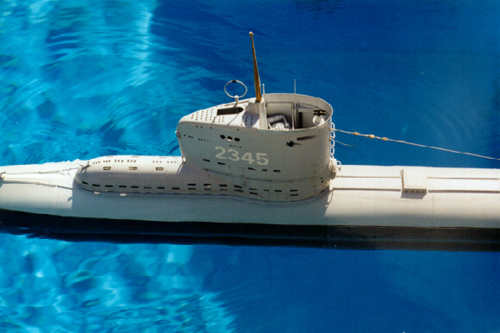 Some of the very toughest questions uboat.net gets is about model-related items and I have to rely on other modellers to answer those :)
Substantial part of this will of course be photographs of both completed and models under construction. If you have such photos and would like to display them here (fully credited) then just e-mail me and we'll talk.
Photoset A - Schwelm
- Mr. Stefan Thewes
9 photos taken during some kind of convention at this small town near Duisburg in Germany.

Photoset B
- Mr. Chris Beaumont
6 photos taken of this white-tower Type XXI boat.

Page on available model kits
This is, what we believe, a fairly complete list of available U-boat model kits.

Books for modellers
Some tips on books for you guys.

Reviews
Already containing 4 nice reviews this will only be much bigger and better ...

Upcoming stuff here
On these pages I want to publish information such as Tips and Techniques (colors, methods, camouflage patterns etc.)

If you can help me develope those pages that would be great!
Other Online Sources
Probably the best online source for the Submarine model information is the SubCommittee. They have photos, tips and means to contact other modellers among other things.
Another fine is is the The Association of Model Submariners.