U-boat Videos
Videos in french language
Barrage anti sous-marin (Anti-submarine barrier)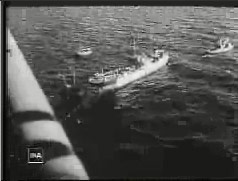 View this video 1:39 min (2023 kb - MOV format)
First broadcast on 14 Jan 1944.
Transcript for this video:
In a Baltic seaport, a special building of the German navy charges on its board a huge anti-submarine net in steel. The ship moves towards the Gulf of Finland where it is a question of establishing a powerful impassable barrier against the Soviet submarines.
With the weight of these iron masses, the net will be always put up. Buoys will maintain it on the surface. The barrier, which extends on tens of kilometres, is posed. Any passage in this place is impossible.
Translated by Mr. Alexis Vigot