U-boat Videos
Videos in french language
Formation des équipages de sous-marins (Training of submarine crews)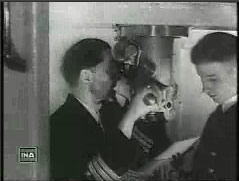 View this video 2:13 min (2921 kb - MOV format)
First broadcast on 11 Dec 1942.
Transcript for this video:
Several schools intended to train crews of submarine work in Germany.
Study of the profiles of the various ships.
After the theory; the practice.
Any member of the crew of a submarine must be able to carry out repairs under water.
Exercise of rescue by individual surfacing in the event of shipwreck.
Strategy and tactic lessons reserved to the future commanders.
In the room of instruction, study to the periscope of models representing a convoy.
After months of study, the first departure towards the open sea happens.
Translated by Mr. Alexis Vigot