U-boat Videos
Videos in french language
Guerre en mer (War at sea)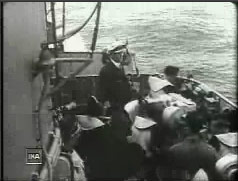 View this video 1:29 min (1896 kb - MOV format)
Transcript for this video:
Patrols of German destroyers in the Atlantic.
A suspect boat is located.
He is ordered to stop.
Papers are examined.
It is a neutral fishing vessel.
An American ship is in sight.
The combat begins.
Torpedoes are launched.
The enemy is hit.
The combat finishes and the destroyers continue their surveillance mission.
Translated by Mr. Alexis Vigot