U-boat Videos
Videos in french language
Revue navale (Naval inspection)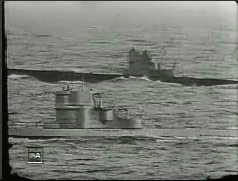 View this video 1:24 min (1739 kb - MOV format)
First broadcast on 17 Dec, 1943
Transcript for this video:
Under the flag of the Grossadmiral D÷nitz, a destroyer on which took place the Grossadmiral and the minister Speer pass in front of units which will take part in significant manoeuvres.
Fast patrol boats simulate the attack of a convoy.
Submarines assist in the action.
The minister and the Grossadmiral on board a submarine.
The exercise, during which they used new offensive weapons, is completed by the traditional procession.
Translated by Mr. Alexis Vigot