HMS Enterprise (D 52)
Light cruiser of the E class
Navy
The Royal Navy
Type
Light cruiser
Class
E
Pennant
D 52
Built by
John Brown Shipbuilding & Engineering Company Ltd. (Clydebank, Scotland)
Ordered
7 Mar 1918
Laid down
28 Jun 1918
Launched
23 Dec 1919
Commissioned
7 Apr 1926
End service
History

Sold to be broken up for scrap on 11 April 1946.
Arrived at Newport to be scrapped at Cashmore on 21 April 1946.
Commands listed for HMS Enterprise (D 52)
Please note that we're still working on this section.
Commander
From
To
1
Capt. Henry Jack Egerton, RN
23 Aug 1939
2 Mar 1940
2
Capt. John Campbell Annesley, DSO, RN
2 Mar 1940
15 Jul 1942
3
Capt. George Eric Maxia O'Donnell, DSO, RN
15 Jul 1942
17 Nov 1942
4
Cdr. John Noel Sparks, RN
17 Nov 1942
28 Dec 1942
5
Capt. George Eric Maxia O'Donnell, DSO, RN
28 Dec 1942
1 Jul 1943
6
Cdr. (retired) the Hon. Robert Arthur William Joseph Southwell, RN
26 Feb 1943


7
Capt. Harold Taylor Wood Grant, RCN
Jul 1943
28 Jun 1944
8
Capt. Allan Thomas George Cumberland Peachey, DSO, RN
28 Jun 1944
2 Oct 1944
9
Capt. (retired) Sydney Keith Smyth, OBE, RN
2 Oct 1944
24 Oct 1944
10
Lt.Cdr. (retired) William Desmond Revell Bravington, RN
24 Oct 1944
10 Apr 1945
11
A/Capt. (retired) Stephen Barry, RN
10 Apr 1945
mid 1945
12
Cdr. George Alan Kenneth McCombe, RNVR
mid 1945
early 1946
You can help improve our commands section
Click here to Submit events/comments/updates for this vessel.
Please use this if you spot mistakes or want to improve this ships page.


Notable events involving Enterprise include:
1939-40: Convoy escorts with the Halifax Escort Force. carried ?10 million in gold to Canada.
1 Jan 1940
Allocated to the Home Fleet for the Norwegian Campaign. In April-May supported Army operations in the Narvik area.
19 Apr 1940
HMS Enterprise (Capt. J.C. Annesley, DSO, RN) was fired upon by U 65 but the torpedoes missed.
1 Jun 1940
In June 1940 she was reassigned to Force "H", operating out of Gibraltar.
9 Jul 1940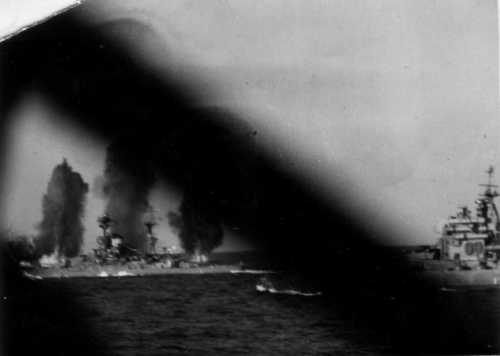 This photograph show HMS Valiant (nearest to the camera) and HMS Resolution and is most likely taken during an Italian air attack (by SM 79 bombers) against Force H on 9 July 1940. The photograph is taken from HMS Enterprise.
Photograph with thanks to John Hancocks whose father Lt.(E) J.P. Hancocks served at HMS Enterprise during that time.
1 Dec 1940
By the end of 1940 was operating in the South Atlantic, unsuccessfully hunting for Thor, then transferred to the Indian Ocean when Admiral Scheer appeared there but, again, she had no success. In 1942 she was in the East Indies & Australian waters, operating with sister ship Emerald in the Eastern Fleet. From the end of 1942 to 10/43 was under refit in the UK, being then allocated to the Home Fleet, mainly for the purpose of hunting down blockade runners in Biscay.
22 Jan 1942
Early in the morning HrMs Tromp (Cdr. J.B. de Meester, RNN) and the destroyers HrMs Piet Hein (Lt.Cdr. J.M.L.I. Chompff, RNN) and HrMs Banckert (Lt.Cdr. L.J. Goslings, RNN) departed Batavia (Jakarta), Java escorting the US cargo ship Collingsworth (5101 GRT, built 1920) and the Dutch passenger / cargo ship Rochussen (2680 GRT, built 1904).
Around 1100 hours all ships joined convoy BM 10 that was made up of the British passenger / cargo ships Talthybius (10224 GRT, built 1912), Rohna (8602 GRT, built 1926), Cap St. Jaques (8009 GRT, built 1922), Takliwa (7936 GRT, built 1924), Islami (5879 GRT, built 1934), Ekma (5128 GRT, built 1911), British cargo ships Subadar (5424 GRT, built 1929), Jalavihar (5330 GRT, built 1911), Ekma (5128 GRT, built 1911), Jalakrishna (4991 GRT, built 1937), Loch Ranza (4958 GRT, built 1934), Brittany (4772 GRT, built 1928) and Jalaratna (3865 GRT, built 1930).
This convoy was escorted by the British heavy cruiser HMS Exeter (Capt. O.L. Gordon, MVO, RN), the British light cruisers HMS Enterprise (Capt. J.C. Annesley, DSO, RN), HMS Danae (Capt. F.J. Butler, MBE, RN), the British destroyers HMS Electra (Cdr. C.W. May, RN), HMS Stronghold (Lt.Cdr. (retired) G.R. Pretor-Pinney, RN), the Australian sloop HMAS Yarra (Cdr. W.H. Harrington, RAN) and the Indian sloop HMIS Jumna (Cdr. W.R. Shewring, RIN). When the Dutch ships joined destroyers HMS Electra and HMS Stronghold left the convoy. (1)
9 Dec 1943
HMS Telemachus (Cdr. W.D.A. King, DSO, DSC, RN) conducted exercises off Scapa Flow together with HMS Enterprise (Capt. H.T.W. Grant, DSO, RCN), HMS Bellona (Capt. C.F.W. Norris, RN) and HMS Golden Thyme (T/Lt. J.S. Bowes, RNVR). (2)
28 Dec 1943
HMS Enterprise (Capt. H.T.W. Grant, RCN) attempting the interception of the arriving German blockade runner Alsterufer in the Bay of Biscay with HMS Glasgow (Capt. C.P. Clarke, RN), ran into the freighter's covering group, consisting of the German destroyer Z 27 and the German torpedo boats T 22, T 25 and T 26.
In a spirited gun action, the heavier British artillery had the better of the Germans and only T 22 was able to return to port.
6 Jun 1944
Took part in the Normandy landings with Force "A", under the overall command of the Admiral embarked in US CA Tuscaloosa and deployed in support of the landings at Utah Beach. From 0716 hrs the CL fired on targets NE of Pouppeville, expending 145 rounds of 152 mm ammo in 6 separate shoots. Enterprise also took part in the bombardment of Cherbourg during June/July. (3)
5 Jan 1945
Placed in reserve but later reactivated for trooping duties. Returned to the UK on 13 January 1946, handed over for scrapping on 11 April and arrived at Newport on 21 April.
Sources
Files 2.12.03.6849 and 2.12.27.121 (Dutch Archives, The Hague, Netherlands)
ADM 173/18214
Personal communication
ADM numbers indicate documents at the British National Archives at Kew, London.