Peter Lohmeyer
Korvettenkapitän (Crew 33)
Successes
2 ships sunk, total tonnage 11,639 GRT
| | | | |
| --- | --- | --- | --- |
| Born | 2 Jan 1911 | | Zanzibar |
| Died | 28 May 2002 | (91) | Schleswig, Germany |
| | | |
| --- | --- | --- |
| 1 Jul 1934 | | Fähnrich zur See |
| 1 Oct 1936 | | Leutnant zur See |
| 1 Jun 1938 | | Oberleutnant zur See |
| 1 Mar 1940 | | Kapitänleutnant |
| 1 Sep 1944 | | Korvettenkapitän |
U-boat Commands
| U-boat | From | To | |
| --- | --- | --- | --- |
| U-19 | 20 Jun 1940 | 20 Oct 1940 | No war patrols |
| U-138 | 21 Oct 1940 | 31 Dec 1940 | 1 patrol (27 days) |
| U-651 | 12 Feb 1941 | 29 Jun 1941 | 1 patrol (18 days) |
Peter Lohmeyer joined the Kriegsmarine in 1933. After standard training he was transferred to a Luftwaffe coastal squadron until Oct 1939, when he joined the U-boat force. He served as a Watch Officer on U-19 for seven months before taking command of that boat in June 1940. He then briefly commanded U-138 before being assigned to the larger type VIIC U-boat U-651 for Baubelehrung (U-boat construction familiarization) during her construction in Jan 1941. He took command on 12 Feb 1941 (Busch & Röll, 1999).
He sank two ships before U-651 was herself sunk shortly after sinking her second victim south of Iceland.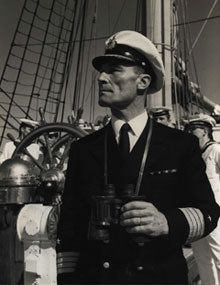 There were no casualties when U-651 was lost on 29 June 1941, and Peter Lohmeyer was captured and became a prisoner of war until 16 July 1947 (Busch & Röll, 1999).
From October 1965 to December 1968 he commanded the famous German naval school ship Gorch Fock. An interview with him appeared in the Scottish local newspaper Stornoway Gazette on 31 August 1968 when the Gorch Fock visited the Western Isles.
Kapitän zur See Peter Lohmeyer died on 28 May 2002 in Schleswig. He was 91 years old.
Sources
Busch, R. & Röll, H-J. (1999). German U-boat commanders of World War Two
Kommandanten der GORCH FOCK. http://esys.org/gofo/Kommandanten.html
Segelschulschiff Gorch Fock. Kapitän zur See Peter Lohmeyer
Patrol info for Peter Lohmeyer
U-boat
Departure
Arrival
1.
U-138
5 Nov 1940
Lorient
1 Dec 1940
Kiel
Patrol 1,
27 days
2.
U-651
7 Jun 1941
Hamburg
11 Jun 1941
Bergen
5 days
3.
U-651
12 Jun 1941
Bergen
29 Jun 1941
Sunk
Patrol 2,
18 days
2 patrols, 45 days at sea
Ships hit by Peter Lohmeyer