Karl-August Landfermann
Kapitänleutnant (Ing.) der Reserve
| | | |
| --- | --- | --- |
| Born | 14 July, 1914 | Dortmund |

Karl-August Landfermann
24/06/1941 : Ubootskriegsabzeichen 1939
25/06/1941 : Iron Cross 2nd class (EK II)
21/01/1943 : Iron Cross 1st class (EK I)
27/10/1943 : Knights Cross (103.)
12/10/1944 : U-Boots-Frontspange in Bronze
01/09/1935 Heizer
01/10/1935 Oberheizer
01/10/1936 Maschinenmaat der Reserve
15/10/1938 Maschinist der Reserve
31/10/1939 Leutnant (Ing.) der Reserve
01/02/1942 Oberleutnant (Ing.) der Reserve
01/01/1944 Kapitänleutnant (Ing.) der Reserve

U-boat Career

U-146
IID
LI
10.40 - 03.41
U-38
IX
LI; 3 patrols, 161 days
03.41 - 01.42
U-181
IXD
LI; 3 patrols, 370 days
01.42 - 04.44
U-188
IXC/40
Return to Bordeaux; 58(?) days
04.44 - 06.44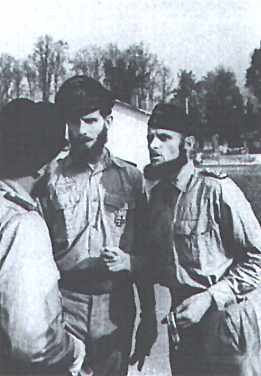 Oblt. (Ing.) Karl-August Landfermann (middle) in October 1943 after the 205 day patrol, on the right, commander Wolfgang Lüth.
Until the begin of the war Carl-August Landfermann served only in some reserve courses. After a few months in a Navy anti aircraft unit since October 1939, he changed in March 1940 to the U-boat force.
After 5 months on U-146 he became in March 1941 the leading engineer (LI) of U-38, which he left in January 1942 after 3 patrols.
The new position for Karl-August Landfermann was on the newly commissioned U-181 under the command of the famous Kptlt. Wolfgang Lüth. He took part in the incredible 205 day patrol of U-181 in summer 1943 and supported the great successes of the boat with great technical achievements. Two weeks after returning from that patrol he got the Knights Cross.
On the next patrol on U-188 under the new commander Fregkpt. Kurt Freiwald he became ill and headed back from the Middle Atlantic with the returning U-188.
Since October 1944 he was an instructor in the Agru-Front (Ausbildungsgruppe Front = training group front) where the new U-boats got their technical and dive training. After the war he spent some 4 months in captivity.
Sources:
Dörr, Manfred
Die Ritterkreuzträger der U-Bootwaffe
Band 2. K - Z
Biblio-Verlag, Osnabrück, 1989
ISBN 3-7648-1759-3
Rainer Busch/ H.-J. Röll
Der U-Boot-Krieg 1939-1945 - Band 1
Die deutschen U-Boot-Kommandanten
E. S. Mittler Verlag Hamburg 1996
ISBN 3-8132-0490-1