Johann-Friedrich Wessels
Korvettenkapitän (Ing.)
(Navy since 1923)
| | | |
| --- | --- | --- |
| Born | 28 May, 1904 | Wilhelmshaven |
| Died | 9 February, 1988 | Oldenburg; |
Johann-Friedrich Wessels
25/09/1939 : Iron Cross 2nd class (EK II)
17/10/1939 : Iron Cross 1st class (EK I)
19/12/1939 : Ubootskriegsabzeichen 1939
09/03/1944 : Knights Cross (-112-)
04/10/1944 : U-Bootsfrontspange in Bronze

01/05/1925 Oberheizer
01/04/1927 Heizergefreiter
01/11/1928 Maschinistenmaat
01/11/1930 Obermaschinenmaat
01/10/1931 Maschinist
01/04/1932 Obermaschinist
01/10/1936 Oberfähnrich (Ing.)
01/01/1937 Leutnant (Ing.) (-6-)
01/06/1938 Oberleutnant (Ing.) (-39-)
01/01/1940 Kapitänleutnant (Ing.) (-7-)
01/04/1944 Korvettenkapitän (Ing.) (-3-)
U-boat Career

U-23
IIB
LI
03.37 - 06.38
U-47
VIIB
LI, 4 patrols, 86 days
12.38 - 04.40
U-198
IXD2
LI, 1 patrol, 199 days
11.42 - 01.44
U-870
IXC40
LI, 1 patrol, 107 days
08.44 - 03.45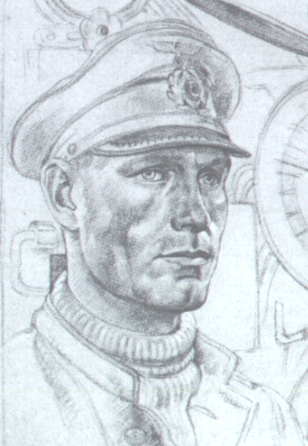 Johann-Friedrich Wessels
Johann-Friedrich Wessels joined the Reichsmarine in April 1923 and served almost 14 years on several ships like the line ship Schlesien and on the light cruiser Leipzig before he changed in January 1937 to the U-boat force.
On board of U-47 took he part on the raid into Scapa Flow. After leaving U-47 he was for some months flotilla engineer of the 1st flotilla and training officer.
In 1943 he rode a 199 days patrol on U-198 in the Indian Ocean and in the winter 1944/45 he was on board of U-870 during a patrol.
The last weeks of war he served in several staff positions. He was released in January 1947 from British captivity.
Source

Dörr, Manfred
Die Ritterkreuzträger der U-Bootwaffe
Band 2. K - Z
Biblio-Verlag, Osnabrück, 1989
ISBN 3-7648-1153-6