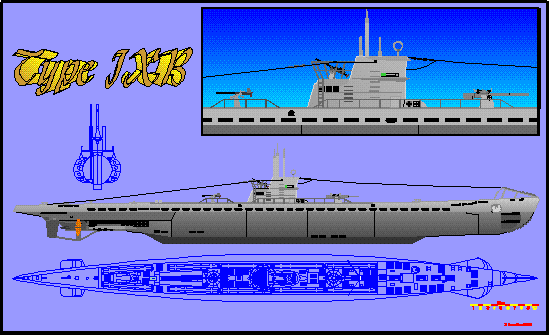 Type IXB
14 boats commissioned
Construction history of type IXB
Type IXB was an improved version of type IX with increased range of 1500 nautical miles and slightly heavier. The design was improved again in their successors of type IXC from 1939 onwards.
This type was the most successful overall with each boat averaging over 100,000 tons of sinking. They had 22 torpedoes stored which gave a determined U-boat commander a serious striking power which could be used night after night against the same convoy, as was often the case.
Perhaps the most famous IXB boat was the U-123 under the command of Kptlt. Hardegen which in Jan 1942 began Operation Drumbeat - the attack on US waters.
U-107, under the command of Hessler, made the most successful mission of the war over with close to 100,000 tons sunk out of Freetown, Africa.
All type IXB U-boats
Below you can see the 14 commissioned U-boats of this type.
U-64, U-65, U-103, U-104, U-105, U-106, U-107, U-108, U-109, U-110, U-111,
U-122, U-123, and U-124.
Technical information for type IXB
Displacement:


(tons)

1051

(sf)


1178

(sm)


1430

(total)

Length: (m)
76,50 oa
58,75 ph
Beam: (m)
6,76 oa
4,40 ph
Draught: (draft)
4,70 m
Height:
9,60 m
Power: (hp)
4400

(sf)


1000

(sm)

Speed:


(knots)

18,2

(sf)


7,3

(sm)

Range:


(miles / knots)

12000/10

(sf)


64/4

(sm)

Torpedoes:
22
4/2

(bow / stern tubes)

Mines:
44 TMA
Deck gun:
105/45
110 rounds
Crew:
48-56 men
Max depth:
ca. 230 m
(755 feet)
sm = submerged, sf = surfaced, ph = pressure hull,
oa = overall, hp = horsepower.