AG Weser, Bremen
Deutsche Schiff und Maschinenbau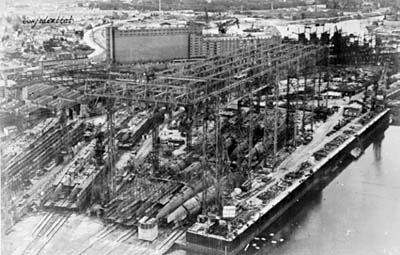 162 commissioned U-boats
| | | | | |
| --- | --- | --- | --- | --- |
| Type | Boats | | Werk | Built during |
| IA | U-25 - U-26 | 2 boats | 903- 904 | 1934 |
| IX | U-37 - U-44 | 8 boats | 942- 949 | 1936 |
| IXB | U-64 - U-65 | 2 boats | 952- 953 | 1937 |
| IXB | U-103 - U-110 | 8 boats | 966- 973 | 1938 |
| IXB | U-111 | | 976 | 1939 |
| IXB | U-122 - U-124 | 3 boats | 954- 956 | 1937 |
| IXC | U-66 - U-68 | 3 boats | 985- 987 | 1939 |
| IXC | U-125 - U-131 | 7 boats | 988- 994 | 1939 |
| IXC | U-153 - U-158 | 6 boats | 995- 1000 | 1939 |
| IXC | U-159 - U-160 | 2 boats | 1009- 1010 | 1939 |
| IXC | U-171 - U-176 | 6 boats | 1011- 1016 | 1939 |
| IXC/40 | U-183 - U-188 | 6 boats | 1023- 1028 | 1940 |
| IXC/40 | U-189 - U-194 | 6 boats | 1035- 1040 | 1940 |
| IXC/40 | U-841 - U-846 | 6 boats | 1047- 1052 | 1941 |
| IXC/40 | U-853 - U-858 | 6 boats | 1059- 1064 | 1941 |
| IXC/40 | U-865 - U-870 | 6 boats | 1073- 1078 | 1941 |
| IXC/40 | U-877 - U-881 | 5 boats | 1085- 1089 | 1942 |
| IXC/40 | U-889 | | 1097 | 1942 |
| IXD/42 | U-883 | | 1091 | 1942 |
| IXD1 | U-180 | | 1020 | 1940 |
| IXD1 | U-195 | | 1041 | 1940 |
| IXD2 | U-177 - U-179 | 3 boats | 1017- 1019 | 1940 |
| IXD2 | U-181 - U-182 | 2 boats | 1021- 1022 | 1940 |
| IXD2 | U-196 - U-200 | 5 boats | 1042- 1046 | 1940 |
| IXD2 | U-847 - U-852 | 6 boats | 1053- 1058 | 1941 |
| IXD2 | U-859 - U-864 | 6 boats | 1065- 1070 | 1941 |
| IXD2 | U-871 - U-876 | 6 boats | 1079- 1084 | 1941 |
| VIIA | U-27 - U-32 | 6 boats | 908- 913 | 1935 |
| XXI | U-3001 - U-3035 | 35 boats | 1160- 1194 | 1943 |
| XXI | U-3037 - U-3041 | 5 boats | 1196- 1200 | 1943 |
| XXI | U-3044 | | 1203 | 1943 |
The first U-boat launched by AG Weser in Bremen was the U-25 on 14 Feb 1936, but the last U-boat launched was the U-3044 on 1 Mar 1945. This refers to U-boats that were actually commissioned into the Kriegsmarine.
The last actual launch was U-3051 on 20 Apr 1945. That boat was not commissioned however.
U-boats that had been laid down
The following boats were laid down but not finished by the yard:
U-882, U-884, U-890, U-891, U-892, U-3036, U-3042 , U-3043, U-3045, U-3046, U-3047, U-3048, U-3049, U-3050 , U-3051, U-3052, U-3053, U-3054, U-3055, U-3056, U-3057 , U-3058, U-3059, U-3060, U-3061, U-3062, U-3063
U-boat ordered but not laid down by this yard
Type
Boats
Werk
Ordered
Notes
IXC/40
U-893 - U-899
7 boats
1101- 1107
1943
IXC/40
U-1501 - U-1542
42 boats
1115- 1156
1943
IXD/42
U-885 - U-888
4 boats
1093- 1096
1942
These boats (U-885 - U-888) had not been laid down.
IXD/42
U-900
1108
1943
Keel had not been laid down when cancelled.
XIB
U-112 - U-115
4 boats
977- 980
1939
These 4 large U-cruisers were probably not laid down but one of them, U-112, possibly went a bit further than the rest. Information on those is very limited. Cancelled in May 1940.

Some claim the U-112 was not only completed but sailed on a mysterious journey against the US in 1945 where she was sunk with all hands. A project known as CA-35 was founded to proof a group of divers had found the wreck but no evidence has been found to confirm the story and no evidence has either been found she was ever completed.

XXI
U-3064 - U-3100
37 boats
1223- 1259
1943
Keel not laid, prefabricated sections partially completed.
Summary
Of those
122
contracts not finished by AG Weser in Bremen,
27
had been laid down and
10
of those had been launched before the war ended.