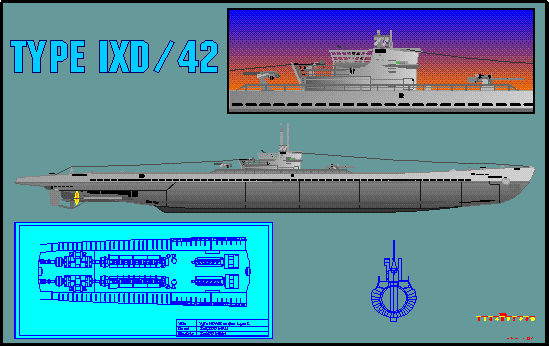 1 Commissioned
| U-boat | Builder | Werk # | Built: |
| --- | --- | --- | --- |
| U-883 | AG Weser, Bremen | 1091 | 1943-1945 |

U-883 was launched on 28 April 1944 and commissioned 27 March 1945, her career ended in Operation Deadlight.
U-884 was launched on 17 May 1944 but was badly damaged on 30 March 1945 by US bombs while still in dockyard hands.
U-885 - U-888 were laid down but construction halted on 30 Sept 1943 which is also the date when all other IXD/42 contracts were cancelled.
These boats were a variation of the IXD which in turn were derived from the IXC only with lengthened pressure hull and enlarged outer casing. The IXD/42 was almost identical to the IXD but with more engine power (5400 ehp against 4400 of the IXD).
Technical information
Displacement
(tons)
1616 sf
1804 sm
2150 total
Speed
(kts)
19.2 sf
6.9 sm
Length
(m)
87.58 oa
68.50 ph
Oil Supply
(tons)
413 / 182
441t max
Beam
(m)
7.50 oa
4.40 ph
Torpedoes
Mines
24
48 TMA
Draught/
Height (m)
5.35
10.20
Crew
55 - 63
Power
(hp)
4400
+1000 ehp sf
1000 ehp sm
Max Depth
ca. 230 m