Lone Wolf
The Life and Death of U-Boat Ace Werner Henke
Mulligan, Timothy P.
1993, Praeger
ISBN 0275936775
247 pages, 12 photographs.
| | |
| --- | --- |
| Type. | Personal narrative |
| Rating. | |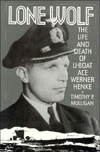 This well written and researched book (amongst other sources such as interviews with surviving U-boat commanders and Henke's personal records, the extensive and very comprehensive files of the U-Boot Archiv, Cuxhaven came to use) should satisfy both the occasional reader of U-boat stories looking for suspense or excitement and the historian searching for detailed in formation.
The author, an archivist specialised in German World War II military records and a skilled writer and historian, took up the difficult task of describing the life and analysing the personality of a U-boat commander who was neither typical German nor typical Navy nor typical in any respect.
Werner Henke in fact had a fascinating and controversial personality that stands him apart from his brother officers in the U-boat service. Because of his personal features, such as dash and daring on the one side but responsibility and coolness in battle on the other, he was able to attract severe clashes with German naval authorities and also to win the Oak Leaves to the Knight's Cross at a time where it was more common for U-boats to be sunk rather than being successful in sinking enemy shipping. Despite his disciplinary problems and because of his superb U-boat command qualities, Werner Henke was held in high esteem by the BdU, Admiral Dönitz, which is further enhanced by the fact that Dönitz mentioned in his memoirs 'Ten Years and Twenty Days' several actions of Henke's U-515 as exemplary for U-boat warfare. Henke's unique character and achievements are fittingly accompanied by a unique though rather sad fate.
Caught by the American 'Guadalcanal' Task Force led by Captain Daniel Gallery, USN, he was as a POW after the loss of U-515 (nearly the whole crew survived due to Henke's actions) put under severe psychological pressure to release secrets about the U-boat arm. To escape this ordeal, Henke ventured an escape attempt from an American prison camp in broad daylight and was shot to death by an American guard.
The book closes with a convincing analysis of Henke's personality and his historical place as a gifted - probably the most skilled - U-boat commander of World War II.
The reading of Timothy Mulligan's work is highly recommended and it can only be hoped that he will continue publishing U-boat related topics.
Review written by Clemens Brechtelsbauer.
Published on 24 Dec 1997.
This title is highly recommended.
Purchase information: (info)


Get Lone Wolf now at amazon.com ($ 59.98)


Get Lone Wolf now at amazon.co.uk (£ 82.95)