Hans Karpf
Korvettenkapitän (Crew 35)
Successes
2 ships sunk, total tonnage 15,255 GRT
| | | | |
| --- | --- | --- | --- |
| Born | 14 May 1916 | | Saarbrücken |
| Died | 6 Apr 1943 | (26) | North Atlantic |
| | | |
| --- | --- | --- |
| 5 Apr 1935 | | Offiziersanwärter |
| 25 Sep 1935 | | Seekadett |
| 1 Jul 1936 | | Fähnrich zur See |
| 1 Jan 1938 | | Oberfähnrich zur See |
| 1 Apr 1938 | | Leutnant zur See |
| 1 Oct 1939 | | Oberleutnant zur See |
| 1 Nov 1942 | | Kapitänleutnant |
| 1 Apr 1943 | | Korvettenkapitän |
U-boat Commands
| U-boat | From | To | |
| --- | --- | --- | --- |
| U-10 | 30 Nov 1941 | 22 Jun 1942 | No war patrols |
| U-632 | 23 Jul 1942 | 6 Apr 1943 (+) | 2 patrols (71 days) |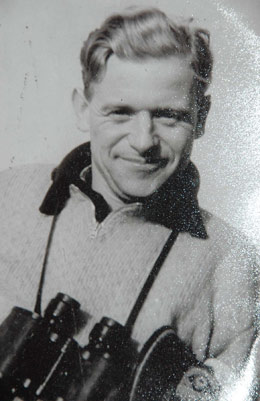 On 18 March, 1943 Hans Karpf's wife gave birth to a daughter (later named Inge). Two weeks later his boat was sunk with all hands in the Atlantic off Iceland .
His daughter had wondered whether Karpf had known he had a child.
After Inge contacted him with this question in 1981, archivist and author Timothy Mulligan of the US National Archives waded through masses of decoded messages transmitted to U-632 on her final patrol, and finally found the thrilling text "Hero daughter born on 18 March. Congratulations", sent by BdU (U-boat Control) 24 March. So Hans Karpf had known he was a father for two weeks before his death. (The Virginian-Pilot, 2007)
Sources
The Virginian-Pilot (Jan 7, 2007). Page A12
Patrol info for Hans Karpf
U-boat
Departure
Arrival
1.
U-632
24 Dec 1942
Kiel
26 Dec 1942
Marviken
3 days
2.
U-632
29 Dec 1942
Marviken
14 Feb 1943
Brest
Patrol 1,
48 days
3.
U-632
15 Mar 1943
Brest
6 Apr 1943
Sunk
Patrol 2,
23 days
2 patrols, 71 days at sea
Ships hit by Hans Karpf
Date
U-boat
Name of ship
Tons
Nat.
Convoy
3 Feb 1943
U-632
Cordelia
8,190
br
HX-224
6 Apr 1943
U-632
Blitar
7,065
nl
HX-231
15,255

2 ships sunk (15,255 tons).

Legend
We have a picture of this vessel.

About ranks and decorations
Ranks shown in italics are our database inserts based on the rank dates of his crew comrades. The officers of each crew would normally have progressed through the lower ranks at the same rate.

As an Amazon Associate uboat.net earns a commission from qualifying purchases.