Gustav Poel
Kapitänleutnant (Crew 36)
Successes
4 ships sunk, total tonnage 34,525 GRT
1 warship sunk, total tonnage 1,100 tons
| | | | |
| --- | --- | --- | --- |
| Born | 2 Aug 1917 | | Hamburg |
| Died | 16 Jan 2009 | (91) | Hamburg, Germany |
| | | |
| --- | --- | --- |
| 3 Apr 1936 | | Offiziersanwärter |
| 10 Sep 1936 | | Seekadett |
| 1 May 1937 | | Fähnrich zur See |
| 1 Jul 1938 | | Oberfähnrich zur See |
| 1 Oct 1938 | | Leutnant zur See |
| 1 Oct 1940 | | Oberleutnant zur See |
| 1 Feb 1943 | | Kapitänleutnant |
U-boat Commands
| U-boat | From | To | |
| --- | --- | --- | --- |
| U-413 | 3 Jun 1942 | 19 Apr 1944 | 5 patrols (290 days) |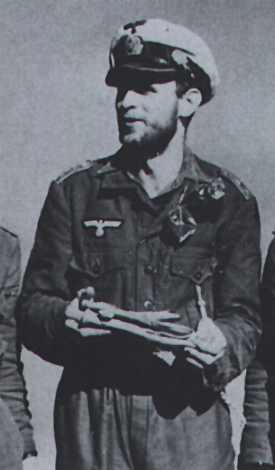 Kapitänleutnant Gustav Poel
Gustav Poel joined the Kriegsmarine in April 1936, and was part of the Olympia Crew. After service on the sailing school ship Gorch Fock and the light cruiser Emden, he spent six months on the torpedo boat Tiger, seeing action in the Spanish Civil War. He transferred to the U-boat force in October 1938. Following standard training and a brief period as II WO (2nd Watch Officer) on U-27, he transferred to U-37 (Schuch), serving as II WO from May 1939 - June 1940, during which he again saw active service. He then spent a year in staff positions, first at BdU org (Commander in Chief U-boats, admin), Kiel, and with Italian Submarine Command liason at Bordeaux .
In June 1941 he became a tactical instructor at the 25th (Training) Flotilla (Training) Flotilla, and in January 1942 became a staff officer there.
On 3 June 1942 he commissioned the type VIIC U-boat U-413. He took her on five patrols, mostly in the North Atlantic. A particularly notable success was his sinking the British destroyer HMS Warwick off the Scilly Isles in February 1944. He was awarded the Knights Cross in March 1944 (Rohwer, 1998).
He left U-413 in April 1944 to become a unit leader at Marinekriegsschule Glücksburg (Naval Warfare Academy). From January 1945 he was on Admiral von Friedeburg's staff (Kommandierende Admiral der U-Boote) at Flesburg-Mürwik until the end of the war.
Sources
Busch, R. and Röll, H-J. (1999). German U-boat commanders of World War II.
Busch, R. and Röll, H-J. (1997). Der U-Bootkrieg 1939-1945 (Band 2).
Rohwer, J. (1998). Axis Submarine Successes of World War Two.
Special thanks to Mr. Fernando Almeida for details on date of death and post-war career.
Patrol info for Gustav Poel
U-boat
Departure
Arrival
1.
U-413
22 Oct 1942
Kiel
24 Oct 1942
Marviken
Patrol 1,
3 days
2.
U-413
28 Oct 1942
Marviken
25 Nov 1942
Brest
Patrol 1,
29 days
3.
U-413
27 Dec 1942
Brest
17 Feb 1943
Brest
Patrol 2,
53 days
4.
U-413
29 Mar 1943
Brest
13 Jun 1943
Brest
Patrol 3,
77 days
5.
U-413
4 Sep 1943
Brest
5 Sep 1943
Brest
Patrol 4,
2 days
6.
U-413
8 Sep 1943
Brest
18 Sep 1943
Brest
Patrol 4,
11 days
7.
U-413
27 Sep 1943
Brest
28 Sep 1943
Brest
Patrol 4,
2 days
8.
U-413
2 Oct 1943
Brest
21 Nov 1943
Brest
Patrol 4,
51 days
9.
U-413
26 Jan 1944
Brest
27 Mar 1944
Brest
Patrol 5,
62 days
5 patrols, 290 days at sea
Ships hit by Gustav Poel
Date
U-boat
Commander
Name of ship
Tons
Nat.
Convoy
14 Nov 1942
U-413
Gustav Poel
Warwick Castle
20,107
br
MKF-1X
22 Jan 1943
U-413
Gustav Poel
Mount Mycale
3,556
gr
SC-117
5 Feb 1943
U-413
Gustav Poel
West Portal
5,376
am
SC-118
21 Apr 1943
U-413
Gustav Poel
Wanstead
5,486
br
ONS-3
20 Feb 1944
U-413
Gustav Poel
HMS Warwick (D 25)
1,100
br
35,625

5 ships sunk (35,625 tons).

Legend
We have a picture of this vessel.

About ranks and decorations
Ranks shown in italics are our database inserts based on the rank dates of his crew comrades. The officers of each crew would normally have progressed through the lower ranks at the same rate.

As an Amazon Associate uboat.net earns a commission from qualifying purchases.