US National Archives - 71604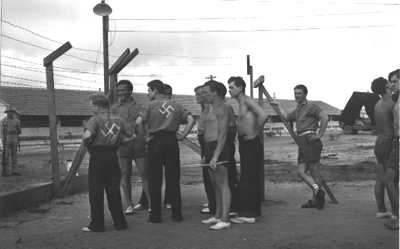 Men from U-128 in a South Atlantic camp
During the war and through the loss of almost 800 U-boats in combat a few thousand men were lucky enough to be captured (as opposed to dying in the sinking U-boat). The British and Canadians handled most of those men in the beginning and then after the US entry into the conflict they had to take on their share as well.
German POWs in North America
This page is a general introduction to how the men were processed and then handled after being captured. We also have a nice statistical page on the POW's in the US including a list of all the major POW bases. New additions include articles on transportation to the US and the journey to the camps in the US.
There were some fascinating POW escape-attempts (some successful) by some of the more imaginative and elusive officers in captivity. Currently this is based on escapes from the US with hopefully more to follow.
There is always the story of the "Battle of Bowmanville" (U-99's Otto Kretschmer and his men "against" the camp guards in a few day long non-lethal but hard fought brawl).
Upcoming stuff

Also there will be a page on the men kept for the longest time in allied captivity, a great number of them were released in 1947-8 with the last one freed in 1950.