Karl-Heinz Wiebe
Kapitänleutnant (Ing.)
(Crew 1935)
| | | |
| --- | --- | --- |
| Born | 10 April, 1916 | Kiel |

Karl-Heinz Wiebe
18/02/1940 : Iron Cross 2nd class (EK II)
21/03/1940 : Ubootskriegsabzeichen 1939
30/05/1940 : Iron Cross 1st class (EK I)
22/05/1944 : Knights Cross (-119-)

25/09/1935 Kadett (Ing.)
01/07/1936 Fähnrich (Ing.)
01/01/1938 Oberfähnrich (Ing.)
01/04/1938 Leutnant (Ing.) (-23-)
01/10/1939 Oberleutnant (Ing.) (-23-)
01/09/1942 Kapitänleutnant (Ing.) (-1-)

U-boat Career

U-9
IIB
LI, 6 patrols
12.39 - 08.40
U-67
IXC
LI, 4 patrols
01.41 - 07.42
U-178
IXD2
LI, 2 patrols
02.43 - 06.44
(LI is a chief engineering officer, not U-boat commander)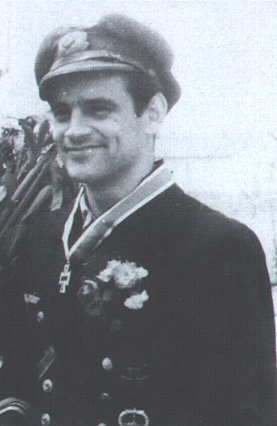 Kptlt. (Ing.) Karl-Heinz Wiebe
after receiving Knights Cross
Karl-Heinz Wiebe joined the Kriegsmarine in April 1935. After the officer training he rode a year on the artillery school ship Brummer.
In October 1939 he changed to the U-boat force and two months later he became the leading engineer (LI) on U-9 under the command of Wolfgang Lüth. Later he rode on U-67 and on the Monsun U-boat U-178.
In June 1944 Karl-heinz Wiebe became a member of the BdU op staff, where he served until the end of the war.
He served later also in the Bundesmarine and retired in 1961 as Korvettenkapitän.
Sources:

Dörr, Manfred
Die Ritterkreuzträger der U-Bootwaffe
Band 2. K - Z
Biblio-Verlag, Osnabrück, 1989
ISBN 3-7648-1153-6