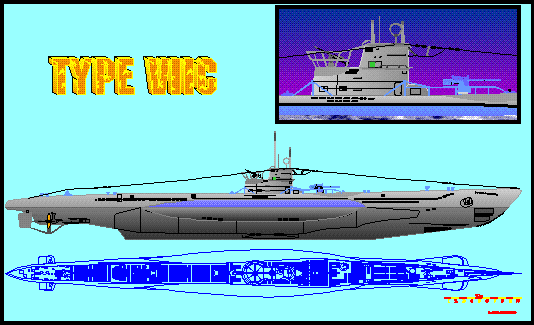 Type VIIC/41
91 boats commissioned
Construction history of type VIIC/41
| | | | | |
| --- | --- | --- | --- | --- |
| U-boats | | Shipyard | Werk # | Built during |
| U-292 - U-300 | 9 | Bremer Vulkan-Vegesacker Werft, Bremen-Vegesack | 57- 65 | 1941 - 1943 |
| U-317 - U-328 | 12 | Flender Werke AG, Lübeck | 317- 328 | 1941 - 1944 |
| U-827 - U-828 | 2 | F Schichau GmbH, Danzig | 1590- 1591 | 1942 - 1944 |
| U-929 - U-930 | 2 | Neptun Werft AG, Rostock | 516- 517 | 1942 - 1944 |
| U-995 | | Blohm & Voss, Hamburg | 195 | 1941 - 1943 |
| U-997 - U-1010 | 14 | Blohm & Voss, Hamburg | 197- 210 | 1941 - 1944 |
| U-1013 - U-1025 | 13 | Blohm & Voss, Hamburg | 213- 225 | 1942 - 1945 |
| U-1063 - U-1065 | 3 | F. Krupp Germaniawerft AG, Kiel | 700- 702 | 1941 - 1944 |
| U-1103 - U-1110 | 8 | Nordseewerke, Emden | 225- 232 | 1941 - 1944 |
| U-1163 - U-1172 | 10 | Danziger Werft AG, Danzig | 135- 144 | 1941 - 1944 |
| U-1271 - U-1279 | 9 | Bremer Vulkan-Vegesacker Werft, Bremen-Vegesack | 66- 74 | 1942 - 1944 |
| U-1301 - U-1308 | 8 | Flensburger Schiffsbau-Ges, Flensburg | 494- 501 | 1942 - 1945 |
Type VIIC/41 was a slightly modified version of the successful VIIC and had basically the same engine layout and power. Armament was the same with 5 torpedo tubes (4 at the bow and one at the stern). The biggest difference was that these boats had a stronger pressure hull giving them more depth to evade attack under (operational 120m and crush depth at 250m against VIIC's 100/200). They also had lighter machinery to compensate for the added steel in the hull making them actually slightly lighter than the VIIC. All the type VIIC/41 boats from U-1271 onwards had the mine fittings deleted.
This design saw one further change in the much improved type VIIC/42 but none of those was ever completed, being phased out for the even more formidable XXI Elektro boat in late 1943.
Today one type VIIC/41 still exists in the form of U-995 which is now on display at Laboe (north of Kiel) in Germany. She is also the only surviving type VII in the world.
All type VIIC/41 U-boats
Below you can see the 91 commissioned U-boats of this type.
U-292, U-293, U-294, U-295, U-296, U-297, U-298, U-299, U-300, U-317, U-318,
U-319, U-320, U-321, U-322, U-323, U-324, U-325, U-326, U-327, U-328, U-827,
U-828, U-929, U-930, U-995, U-997, U-998, U-999, U-1000, U-1001, U-1002, U-1003,
U-1004, U-1005, U-1006, U-1007, U-1008, U-1009, U-1010, U-1013, U-1014, U-1015, U-1016,
U-1017, U-1018, U-1019, U-1020, U-1021, U-1022, U-1023, U-1024, U-1025, U-1063, U-1064,
U-1065, U-1103, U-1104, U-1105, U-1106, U-1107, U-1108, U-1109, U-1110, U-1163, U-1164,
U-1165, U-1166, U-1167, U-1168, U-1169, U-1170, U-1171, U-1172, U-1271, U-1272, U-1273,
U-1274, U-1275, U-1276, U-1277, U-1278, U-1279, U-1301, U-1302, U-1303, U-1304, U-1305,
U-1306, U-1307, and U-1308.
Technical information for type VIIC/41
Displacement:


(tons)

769

(sf)


871

(sm)


1070

(total)

Length: (m)
67,10 oa
50,50 ph
Beam: (m)
6,20 oa
4,70 ph
Draught: (draft)
4,74 m
Height:
9,60 m
Power: (hp)
3200

(sf)


750

(sm)

Speed:


(knots)

17,7

(sf)


7,6

(sm)

Range:


(miles / knots)

8500/10

(sf)


80/4

(sm)

Torpedoes:
14
4/1

(bow / stern tubes)

Mines:
26 TMA
Deck gun:
88/45
220 rounds
Crew:
44-52 men
Max depth:
ca. 250 m
(820 feet)
sm = submerged, sf = surfaced, ph = pressure hull,
oa = overall, hp = horsepower.