Adolf Graef
Kapitänleutnant (Crew 36)
Successes
3 ships sunk, total tonnage 19,325 GRT
| | | | |
| --- | --- | --- | --- |
| Born | 22 Apr 1916 | | Flensburg |
| | | |
| --- | --- | --- |
| 3 Apr 1936 | | Offiziersanwärter |
| 10 Sep 1936 | | Seekadett |
| 1 May 1937 | | Fähnrich zur See |
| 1 Jul 1938 | | Oberfähnrich zur See |
| 1 Apr 1939 | | Leutnant zur See |
| 1 Oct 1940 | | Oberleutnant zur See |
| 1 Oct 1943 | | Kapitänleutnant |
U-boat Commands
| U-boat | From | To | |
| --- | --- | --- | --- |
| U-664 | 17 Jun 1942 | 9 Aug 1943 | 5 patrols (167 days) |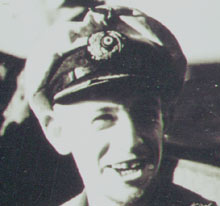 Adolf Graef joined the Kriegsmarine in 1936, and was part of the Olympia Crew. After serving in minesweepers, he commissioned U-664, commanding her until she was sunk in August 1943. He remained in Allied captivity until May 1946.
The young U-boat commander Adolf Graef did what many others could not at that point in the war; both survive over 160 days at sea and sink enemy shipping as well. 187 U-boats were lost during the time Graef was at sea, and his boat was the last of that number. Hard times had befallen the U-boats by 1943.
Patrol info for Adolf Graef
U-boat
Departure
Arrival
1.
U-664
20 Oct 1942
Kiel
10 Nov 1942
Brest
Patrol 1,
22 days
2.
U-664
5 Dec 1942
Brest
13 Jan 1943
La Pallice
Patrol 2,
40 days
3.
U-664
14 Feb 1943
La Pallice
28 Mar 1943
Lorient
Patrol 3,
43 days
4.
U-664
29 Apr 1943
Lorient
9 Jun 1943
Brest
Patrol 4,
42 days
5.
U-664
21 Jul 1943
Brest
9 Aug 1943
Sunk
Patrol 5,
20 days
5 patrols, 167 days at sea
Ships hit by Adolf Graef
Date
U-boat
Name of ship
Tons
Nat.
Convoy
16 Dec 1942
U-664
Emile Francqui
5,859
be
ON-153
21 Feb 1943
U-664

H.H. Rogers
8,807
pa
ONS-167
21 Feb 1943
U-664
Rosario
4,659
am
ONS-167
19,325

3 ships sunk (19,325 tons).

Legend
We have a picture of this vessel.

About ranks and decorations
Ranks shown in italics are our database inserts based on the rank dates of his crew comrades. The officers of each crew would normally have progressed through the lower ranks at the same rate.

As an Amazon Associate uboat.net earns a commission from qualifying purchases.