U-boat Related History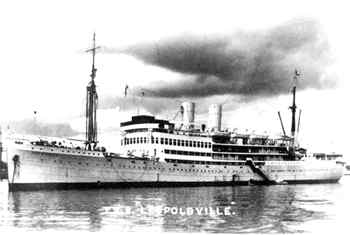 The Sinking of SS Leopoldville
One of the biggest naval disasters ever to happen to American forces took place on Dec 24, 1944 off Cherburg, France. Read all about it.
This very interesting page explains the controversial order of 1 May, 1943 to stay up and fight the aircraft attacking the U-boats.
This great article covers the reasons and consequences for the massive torpedo failures of the Ubootwaffe.
The report, provided by the Canadian War Museum, illustrates the boats career both in German service and its post-war service with the Royal Canadian Navy.
One of the most controversial incidents of the war, she was also the first ship to be sunk in the war.
Here you can read about the 2 4-man saboteur teams inserted in USA during the summer of 1942, the automatic weather station erected in Labrador in 1943 and the 2 agents landed at Cape Cod in late 1944.
A set of pages designed to provide a good overview on the monumental battle that took place on the high seas during World War One. This was the birth of the U-boat as an offensive weapon.
The awesome memorial is a must see if you are in the Kiel area (perhaps visiting the U-995).
Read about one of the most interesting events of the U-boat of WWII when Heinz-Wilhelm Eck of U-852 ordered the wreck of the torpedoed merchant Peleus destroyed with machine-gun fire.
One of the most successful Hunter-Killers of WWII
This page covers the events related to U-boats since 1945, including boats taken over by the allies after the war and their eventual fate.
There are 3 type XXI boats buried in the Elbe II bunker in Hamburg.
Other stories